We have had the pleasure of interviewing James Mylne, a Biro drawing pioneer, at the . This talented young artist, who creates surprisingly photo-realistic drawings with a simple BIC pen, introduced us to the works from his latest exhibition, Vintage Vogue.
Vintage Vogue focuses on "en vogue"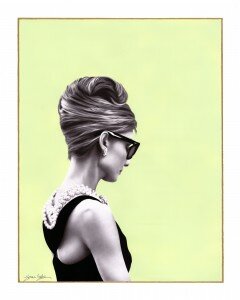 women from the 40s, 50s and 60s, not all of them famous. "I select them based on their elegance, their natural grace. That is what inspires me. They are confident, but not always posing. I'm looking to represent their contemplative state, when they are unaware of the cameras and being their true selves."
He started drawing at the age of 14, using solely pencil, before realising that ballpoint pen allows for more contrast and detail, giving it a photo-realistic look, as well as being more permanent than a pencil drawing.
The starting point in his work is to find the right picture, which can be difficult sometimes as original ones are old and rare – one of them is even 100 years old. "The Audrey Hepburn picture was inspired by a film still, which actually needs to be blown up manually, contrary to modern pictures that you can just enlarge on Photoshop."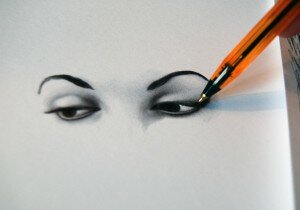 These drawings obviously take a lot of time and patience, as you can see in this . "Doing the work demands a lot of focus. Drawing with ballpoint is quite scary; if you apply too much pressure you ruin it and have to start all over again." He does however thoroughly enjoy this medium, as it puts him in a sort of "meditation state", completely withdrawn from his surroundings.
James is slowly evolving from drawing purely photo-realistic portraits to slightly more abstract ones, adding colour and different textures. At first he was mostly focusing on perfecting his technique, but since then he has been concentrating on how to represent the pictures by playing on the compositions. "Different media give different perspectives and more interesting results. I offer a modern way of looking at old images, giving them a kind of 'fresh air' feel; I personalise them." He has started using ballpoint pens in conjunction with pencil, spray paint and black markers. In some cases he takes the background out to make it less busy and allow the viewer to concentrate solely on the subject. "I tend to increase the space around the image. For some of them the original shots are cropped, and I give them breathing space. I try to catch a certain feel and get it across to the viewers".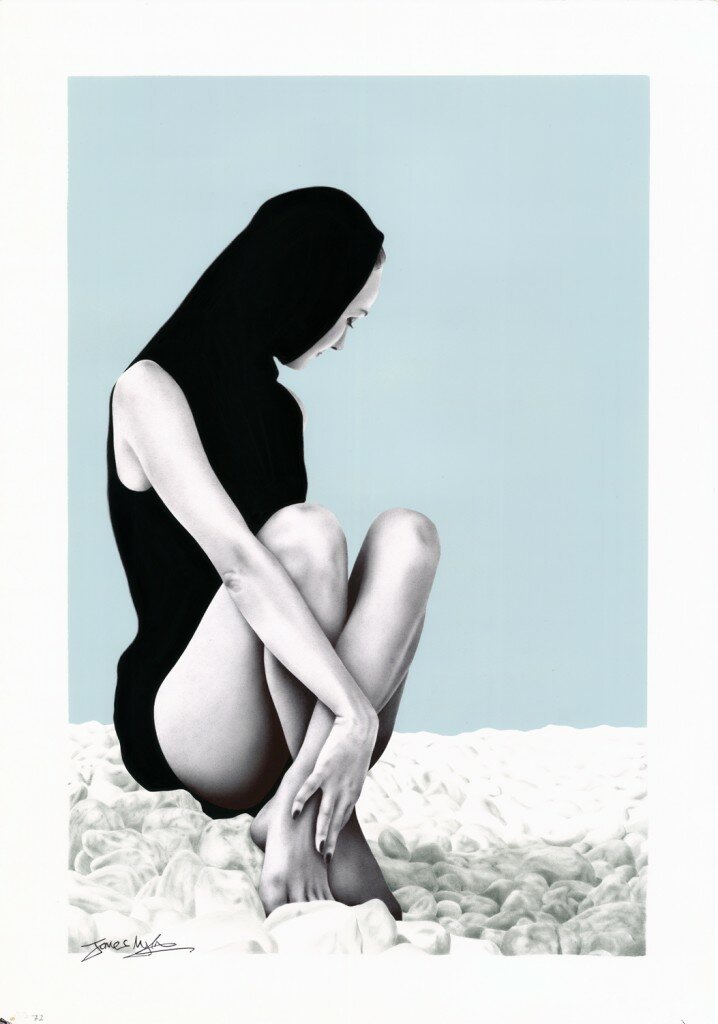 He is now at an interesting turning point in his career, with a very apparent evolution in his drawings. "Now I want to look at creating sets and shots, I already have ideas about some." He is planning for his next projects to be based not on old photography, but on photo shoots he is in charge of, with everything from hiring the photographer and designing the set, to choosing the models' make-up, and poses. These photos would then allow him to create much more customised drawings, based on his own work instead of someone else's. "I'm still in the process, constantly developing and experimenting."