Born and raised in Vendée, France, Limousin has been with L'Atelier de Joël Robuchon, London since its launch 5 years ago.
Initially trained at "Le Grand Turc" in L'Oie, Olivier fine-tuned his culinary skills in Paris whilst working in several renowned Michelin-star restaurants, including Le Bellecour and Le Taillevent. It was during his time working at L'Amphyclès, that his then mentor, head chef Philippe Groult, who had previously worked with Robuchon, recommended him to La Table de Joël Robuchon and the fruitful and long lasting relationship begun.
What are the guiding principles behind the kitchen at L'Atelier by Joel Robuchon?
With both Mr. Robuchon and I, our ethos is the quality of the products and respect for tradition.
I have worked with all my suppliers for over 15 years and the majority of them are small holding family businesses of several generations. They are the experts in their field and know what is good to sell or not, without compromise. They are an information hub that tells me what good produce is coming, and how long that produce will be in season. So all I have to think about is how to cook to make the product shine! When you receive this kind of attention to detail on sourcing the product then you just have to cook and season it perfectly.
What do you think pushes a restaurant into the 2-starred category?
Consistency is the key word! The food, the standard of quality, the service, the hospitality and the ambience of the restaurant. Everything has to work together like a well-tuned engine. We are here to make the meal into a memorable experience every time. From the moment the guests step through the door, it is like the curtain has been drawn for an unforgettable show you want to see again and again.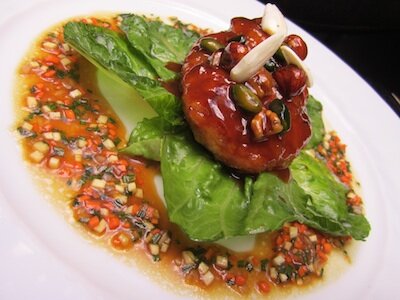 Two Michelin stars are a great achievement for a restaurant. What did this mean for you personally?
Of course this is a significant achievement for a restaurant as well as for me; it is like an end of year school result to see how you have performed. This is great recognition of our hard work and is like a big pat on the shoulder saying you have done well and should keep up the good work. I always push the team to perform their best, so to me this is more for them than for myself.
What are the top 5 kitchen essentials that every chef should have in his home kitchen?
* A good set of knives
* Boards
* A coffee machine
* The Larousse Gastronomique Cookbook
* Salt and pepper
What's on your dinner table at home and who prepares it?
When I am in London, since I live by myself, there is nothing special, but when I go home to visit my family in Vendée, my father is the man responsible for my welcome home meal. He goes to the seaside to buy oysters from the oyster farmer, so we would have the freshest oysters; the neighbours churn fresh butter from their dairy farm. We have local bakery baguettes, country Champagne (sparkling wine if we have to be specific) and of course a bottle of white wine like a Muscadet to wash it all down. It's a simple affair but the most important thing is sharing with the ones you love and cherish.