This Thursday, 10th December, a number of familiar faces will be attending St Paul's Church, Wilton Place, Knightsbridge to celebrate Macmillan Cancer Support's annual Carols by Candlelight concert. This year will mark the 25th anniversary of the festive event and Carols by Candlelight was voted by the Independent newspaper as one of the top 10 carol concerts to go to in London in 2012, so this is definitely a concert not to be missed.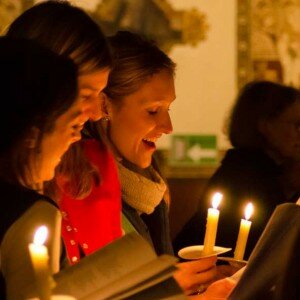 Television presenter, Kay Burley, will be hosting the concert. Kay is the longest-serving newsreader on British television with her exclusive interviews ranging from prime ministers and royalty to celebrities and sports stars. Graham Seed, best known as the voice of 'Nigel Pargetter' in the The Archers, will perform a reading during the evening.
The actor trained at RADA and has worked across radio, film, television and stage ever since. Alongside Nigel, breast cancer patient, turned social media sensation Sara Cutting will also present a reading on the night. Sara recently won Woman's Own Role Model of the Year 2015 and is celebrated for her incredible fundraising for Macmillan Cancer Support. She raised £16,000 alone by posting a selfie of herself wearing different headgear every day for a year as a way of recording her cancer journey and raising awareness of the importance of self-examination.
There will be a selection of warm drinks and mince pies available outside the church once the concert has finished. The award-winning choir, Vox Cordis, will provide musical entertainment during the event. In order to help Macmillan achieve their fundraising goal of £20,000 (enough to fund a vital Macmillan nurse for four months), tickets are £25 and available from: http://www.macmillan.org.uk/get-involved/fundraising-events/event-detail/523/carolsbycandlelight or by telephoning Judy Spence on 07793579359.
For more information visit the website .
Ultra Vie is your home of cultural events in London. Whether you're a foodie, mad about theatre or love a good art gallery we have something for you. So if you haven't already be sure to subscribe to our bi-weekly newsletter for your chance to get yourself to some of the amazing events that we cover.