The main source of inspiration for the works of Janis Avotins new solo show entitled Since the Foundation resides in the 1950's Soviet propaganda films, post World War II picture books, and photographic documentation of the time, as well as various artworks seem inspired by the contemporary appearance and landscapes of his hometown in Latvia.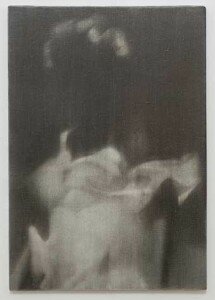 In Janis Avotins works, the forms emerge from the canvas through omission, highlighting the absent, and tracing the void of existence of the subjects portrayed. The subjects are usually loud and strong images which, through the artist's technique of applying thin washes of pale, bleached colour overlaid with small alternating brushstrokes, keep the viewer hypnotised and, at the same time, awaken in the viewer the sense of lack of emotion, distance and coldness which are intrinsic to the very own subjects portrayed.
The body of work in Since the Foundation stands out from Janis Avotins previous artworks since it has more expressive and stirring quality, and the main source is traceable to the decline of western culture. Beyond the historical atmosphere ever present in his works, Since the Foundation features also a longing for a general desire of beauty and hope.

Born in Latvia 1981, Janis Avotins most recent shows were hosted in  Bonn (Germany), New York and London. The artist also has a solo show upcoming at the Latvian National Museum of Art in 2016.
For more information visit the website .
Ultra Vie is your home of cultural events in London. Whether you're a foodie, mad about theatre or love a good art gallery we have something for you. So if you haven't already be sure to subscribe to our bi-weekly newsletter for your chance to get yourself to some of the amazing events that we cover.