CHILDREN'S charity Chain of Hope will be celebrating the festive season with a carol concert, featuring stars Felicity Kendal and Anita Dobson, and High Commissioner for Jamaica H.E Aloun Ndombet-Assamba as special guests. The evening will include traditional carols, readings and refreshments after the concert.

Chain of Hope provides vital treatment for children suffering from life- threatening heart diseases in developing and war-torn countries. Founded by Professor Sir Magdi Yacoub OM, Chain of Hope aim to offer for the highest level of surgical and medical care for children and young adults whilst helping to develop cardiac services in the countries they are active in.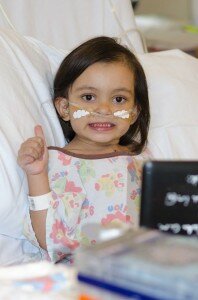 It is estimated that potentially treatable or preventable diseases cause serious long term illness and death in as many as 15 million children a year. £5,000 could provide heart surgery for a child who would not otherwise have access to the healthcare they desperately need. The aim of the Chain of Hope Carol Concert, which will be hosted at Holy Trinity Sloane Square, is to raise this amount in order to "help a little heart" this Christmas. The money will go towards a child like Bitia, four, who was born with a severe cardiac condition. The Chain of Hope Medical Board reviewed her case and decided to fly her to the UK  so that she could benefit from the expertise of one of their surgeons immediately. This action has meant that Bitia is now on the mend at home and looking forward to starting school. Chain of Hope have enabled her mum to go back to work as Bitia no longer needs full time medical care.
Doors will open at 6pm for a 6.30pm start.
For more information visit the website and to purchase tickets (£20 per adult, £10 per child), visit .
Ultra Vie is your home of cultural events in London. Whether you're a foodie, mad about theatre or love a good art gallery we have something for you. So if you haven't already be sure to subscribe to our bi-weekly newsletter for your chance to get yourself to some of the amazing events that we cover.