House of Godo translates to "enjoy with pleasure," and the pop-up aims to engage customers at every touch point, from the colour scheme and décor to the friendly Italian staff and of course, the food.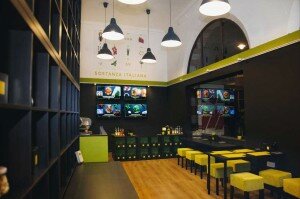 Full of traditional Italian dishes, the GODO website and app will enable the authentic dishes to be delivered throughout the City, Canary Wharf and Mayfair. Entrepreneurs Amin Bouafsoun and Simone Sajeva are the brains behind the business, and are on a mission to deliver top quality Italian pasta-based meals to Londoners in a unique and highly engaging way; Bouafsoun and Sajeva developed the idea after working in the City and finding themselves with limited options for affordable, premium quality food; as a full time worker in Central London, I can definitely sympathise! So often I have to make the choice between affordable but not particularly creative or healthy and  high quality but expensive lunches.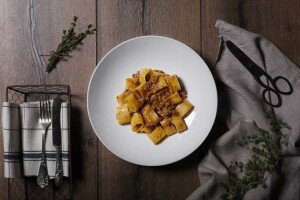 GODO aims to solve this dilemma by offering authentic, passionate flavours of Italy at a competitive price, through a simple two-step app process. GODO's philosophy is to 'deliver emotion'  which begins from sourcing the best and most authentic ingredients.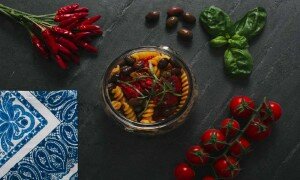 GODO has also branched out to try innovative new techniques – Michelin star chef, Tommaso Arrigoni, has experimented with each recipe to create delicious Italian dishes perfect for transport. Packaging the pasta in elegant, custom-made glass jars developed by food technology experts, GODO ensure each order is delivered at optimum temperature and texture. Orders will be delivered by Italian 'brand presenters' driving a customised Fiat 500 or Vespa supplied by Piaggio wearing bespoke Italian motorbike clothing label, Dainese and Italian fashion brand, Conte of Florence. GODO is committed to sustainability and offer a collection upon re-order service for their luxury glass jars, which will be then recycled; eco-friendly companies are making recycling cool again!
The thermic food container used by GODO has been meticulously designed over the course of fifteen months in order to produce a vessel that maintains a constant temperature during transportation. House of GODO combines state-of-the-art technology, delicious traditional food, hand-selected from small suppliers and London lunch desires to fill a gap that's been in the market for far too long, as well as the pop up featuring a basement space which will soon host tastings and events. Be sure to pop in and give GODO a go before they're gone!
For more information visit the website .
Ultra Vie is your home of cultural events in London. Whether you're a foodie, mad about theatre or love a good art gallery we have something for you. So if you haven't already be sure to subscribe to our bi-weekly newsletter for your chance to get yourself to some of the amazing events that we cover.