Phillips is proud to present David Beckham: The Man, a unique public viewing and gala auction in support of 7: The David Beckham UNICEF Fund and Positive View Foundation.
This innovative international gala auction is part of a high profile three-year global philanthropic programme and exhibition of signed contemporary photography featuring and celebrating David Beckham. This inaugural and high-profile event features more than 50 original signed works, some previously unseen, by 27 internationally acclaimed photographers including: Annie Leibovitz, Inez & Vinoodh, Mert & Marcus, Mario Sorrenti, Peter Lindbergh, Sam Taylor-Johnson and Steven Klein. Work has been specially commissioned for David Beckham: The Man from Damien Hirst, Tracey Emin, Nadav Kander and Tessa Traeger.
The works will be on view at Phillips' European Headquarters at 30 Berkeley Square in London from Saturday, 27 February until they are sold at auction on Thursday, 10 March.
"This wonderful project in support of my own 7 Fund at UNICEF and Positive View Foundation will help create change for children and disadvantaged young people around the world." says David Beckham.Kathy Adler, curator of 'David Beckham: The Man' and former Director of Education at the National Gallery, London, says: "David Beckham is the quintessential modern man, his fame far exceeding that of a sportsman. He is universally recognised, an icon of modern masculinity and a magnet for photographers. His appeal is ubiquitous: he is happy being a gay icon, a teenage idol, a spokesperson for sport, a UNICEF Goodwill Ambassador. He has redefined counter-cultural concepts such as tattooing and brought them into the mainstream. On the body of a classical Adonis, lean, lightly muscled and perfect, he has written a dense and complex biography through the ongoing inking of names, texts (in several languages) and numerals relating to key events and to his all-important family.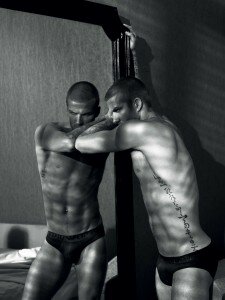 The photographs constitute a narrative of Beckham's life and of the position he occupies in contemporary culture. He has constantly challenged notions of masculinity, from the famous sarong-wearing appearance to the many images of him as a devoted husband and father."
Damien Whitmore, Creative Director, Phillips, says: "Phillips is delighted to be presenting this important sale of unique works by some of the world's leading artists – inspired by one of the world's most famous men. We are equally delighted to be supporting the incredibly important work being done by UNICEF and Positive View."
For more information visit: .
Ultra Vie is your home of cultural events in London. Whether you're a foodie, mad about theatre or love a good art gallery we have something for you. So if you haven't already be sure to subscribe to our bi-weekly newsletter for your chance to get yourself to some of the amazing events that we cover.