Hosted at Pace Gallery, The Calder Prize 2005 – 2015 will explore the profound influence of Alexander Calder on a generation of contemporary artists, through the work of the six international laureates of the Calder Prize to date: Tara Donovan (2005), Žilvinas Kempinas (2007), Tomás Saraceno (2009), Rachel Harrison (2011), Darren Bader (2013), and Haroon Mirza (2015).
The exhibition will take over Pace Gallery in Burlington Gardens, Mayfair from February 4th to March 5th 2016, and coincides with "Alexander Calder: Performing Sculpture" at Tate Modern, which looks at the artist's impact on sculpture, gradually changing from static to an ever-changing and dynamic form.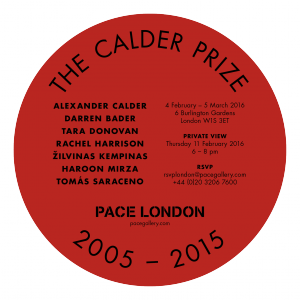 Alexander Calder (1898–1976) is one of the most eclectic and unorthodox artists of the 20th century, as his body of work includes sculptures, paintings, drawings, prints, jewellery, tapestries, as well as costumes and set designs for ballets and theatrical productions.
The Calder Prize was inaugurated in 2005 by the Calder Foundation, a non-profit organisation founded in 1987 by Calder's grandson Alexander S. C. Rower, and is dedicated to collecting, exhibiting, and preserving the art of Alexander Calder. This biennial prize awards artists whose career has been influenced by Calder's eccentric approach to art and materials.
For more information please visit .
Ultra Vie is your home of cultural events in London. Whether you're a foodie, mad about theatre or love a good art gallery we have something for you. So if you haven't already be sure to subscribe to our bi-weekly newsletter for your chance to get yourself to some of the amazing events that we cover.