Every week newspapers and online magazines cover a large variety of events, exhibition openings and art market news. Among those Sotheby's evening sales totals $100 million estimate, Lisson Gallery opens a new space in New York and Brazilian art market hits deflation.
Here is UV's pick of last week's 8 most important art news stories.
1 – Erwin Wurm revisits everyday objects in a unique exhibition in Paris
In its Paris Marais Gallery space, Galerie Thaddaeus Ropac presents a series of new sculptures by Erwin Wurm that continues his ongoing interest in the materiality and profanity of everyday objects. The exhibition 'lost' sees a selection of vintage furniture pieces and domestic items sculpted either larger than life — giving the work a surreal feeling — or true to their actual size. A body lotion dispenser, a clock, a chaise lounge and a refrigerator are situated throughout the space, evoking associations and emotions in the viewer of a 'lost' time, or a memory sourced from a particular historical or social context.
(via )
2 – Sotheby's contemporary art evening sale estimate totals $100m
Against a mood of anxiousness framed by last week's Impressionist and modern art sales, and last night's sale at Phillips, which all struggled to meet their lower estimates, Sotheby's entered the fray with a 55 lot sale this evening with an estimate of £60.2-86.1 million ($87 to $100.5 million) after four major lots had been withdrawn.
(via )
3 – Lisson Gallery to open a new space in New York
London's Lisson Gallery is scheduled to open its first New York location on 3 May. Due to occupy an entire block in the Chelsea neighbourhood in Manhattan, the 8,500 sq ft. space is led by Alex Logsdail, the son of the British art dealer Nicholas Logsdail, who founded the gallery in 1967 and pioneered then-emerging artists like Yoko Ono.
(via )
4 – Serpentine Gallery Pavilion in London to be designed by Bjarke Ingels
Danish architect Bjarke Ingels and his firm BIG have been selected to design this year's Serpentine Gallery Pavilion in London, while four other studios will create accompanying summerhouses. Copenhagen- and New York-based BIG – whose built projects include the pioneering 8 House and the Danish Maritime Museum – will create the 16th edition of the pavilion, which is constructed every summer outside the Serpentine Gallery in Kensington Gardens.
(via )
5 – Brazilian art market hits economic downward spiral
Last year had been bad enough, with other gallerists in the city confirming as much as a 50% drop in revenues. In the meantime, 2016 is off to a bleak, if not disastrous, start. Galeria Millan, one of Brazil's most traditional galleries, has reported a 40% decrease in revenue, while Galeria Fortes Vilaça, another top-tier gallery in the Brazilian market, confirmed a 30% drop in the volume of sales. Even Galeria Luisa Strina, a mainstay of the Brazilian scene for over four decades, has decided to focus on the foreign market after disappointing sales last year.
(via )
6 – Clermont-Ferrand (France) invaded by 31 new works by street artist Invader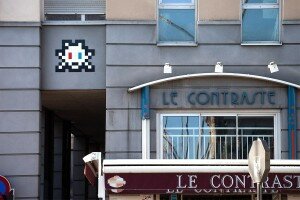 In town for a screening of Art4Space at the Festival International du Court Métrage de Clermont-Ferrand, the French artist once again unveiled some of his signature pixelated imagery. The largest piece from this invasion is a huge portrait of the legendary French singer, Serge Gainsbourg.
(via )
7 – After 20 years the White Cube no longer represents artist Marc Quinn
The departure has been confirmed to artnet News by a gallery spokesperson: "We can confirm that White Cube's relationship with Marc Quinn has drawn to a close. We would like to take this opportunity to wish him every continued success with his future projects," she said. The split is said to have taken place in the last couple of weeks.
(via )
8 – Lenbachhaus Museum hosts Wolfgang Tillmans latest installation
The German photographer Wolfgang Tillmans has designed a "Playback Room" which will be installed at the Lenbachhaus Museum in Munich and opened to the public on February 16. The concept—which the Turner Prize winner previously presented in his Berlin exhibition space, Between Bridges—aims to provide a presentation platform for recorded music on par with visual art by giving visitors the opportunity to hear records on a high-end, studio-quality stereo system.
(via )
Ultra Vie is your home of cultural events in London. Whether you're a foodie, mad about theatre or love a good art gallery we have something for you. So if you haven't already be sure to subscribe to our bi-weekly newsletter for your chance to get yourself to some of the amazing events that we cover.