Zürich has brought its own artisan producers to London's Borough Market' Market Hall as part of Zürich meets London, the multi-venue, citywide festival of the two cities designed to celebrate the 100th anniversary of the home-grown art movement Dada.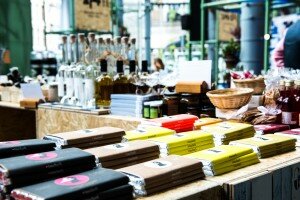 The City of Zürich, Canton of Zürich and Zürich Tourism are presenting pop-up stalls and Dada inspired gala dinners prepared by Fabian Spiquel, head chef of the renowned Michelin starred Maison Manesse. Zürich Tourism is a private organisation which sees itself as an enabler of various projects for the location and region of Zürich and the Canton. The company has already started executing this strategy by completing the first project of artistical and cultural encounter between Zürich and New York. Now, they have set up shop in London for 5 days to celebrate the Dada movement through cultural, scientific and culinary events.
London is the embodiment of creativity hazards, perpetual renovation and food avant-garde: Chef Fabian Spiquel of Michelin starred Maison Manesse is taking on the challenge of matching the dynamic spirit of the City by  applying the concept of Dada to cooking a 5-course Dada Gala Dinner.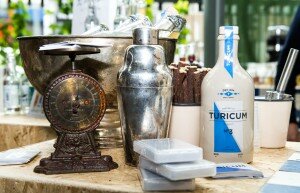 The menu he created includes a matching wine list and is served with some excellent Turicum Gin of Zürich produce to delight guests from appetizers down to the mouthwatering dessert. No, don't get me wrong: the food doesn't have to be washed down with Gin! On the contrary, Fabian's menu plays with a delightful symphony of flavors and Dada allure that will enchant you and culminate in a superb fourth course.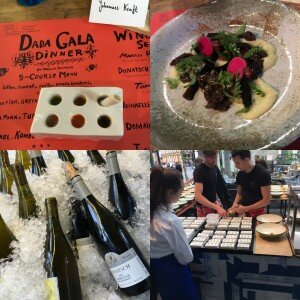 Perfectly addressing the nature of this culinary climax, one of my table-mates compared the course with "The Story of The Forest" referring to the ingredients Fabian uses in the 4th course –  morels (a honeycomb like fungi), wild strawberries and Kombu (a Japanese Seaweed). Dada for me is individualism and this course shows off chef Spiquel's style best and why you should visit Maison Manesse at Borough Market today or tomorrow evening or visit them in Zürich.
The restaurant's sommelier added a delicious  touch to the dinner and presented some extraordinary white wines, including the Donatsch Weinbau (Completer) from Bündner Herrschaft and a very elegant and smooth Chardonnay from Aargau (Tom Litwan, Wanne).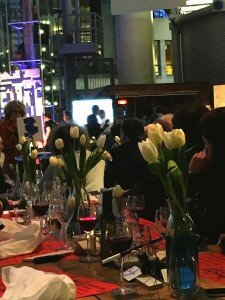 Honoring the Gala with a welcome speech, Corinne Mauch, Mayor of Zürich, made thoughtful observations on the Dada movement and pointed out that "although not even Dadaists know what Dada is, the only one that does know is the Dada-in-chief". Corinne described Dadaism as the most international, noisiest, strangest and possibly most innovative art movement of the early 20th century. Dada in Zürich began at the literary salon Cabaret Voltaire in 1916 and according to Tristan Tsara, one of the founders and most central figures, it was an anti-establishment movement. She highlights that cities are still facing similar challenges 100 years later due to current global migration and the streams of refugees.
The evening also promises to bring out your inner-Dada as the Gala Dinner is accompanied by a Dada performance of the renowned Tonhalle Orchestra as well as the Schauspielhaus Zürich and a quartet devised by the Zürich Chamber Orchestra. You can book tickets .
For more information about the Festival, visit .
Ultra Vie is your home of cultural events in London. Whether you're a foodie, mad about theatre or love a good art gallery we have something for you. So if you haven't already, be sure to subscribe to our bi-weekly newsletter for your chance to get yourself to some of the amazing events that we cover.