Alighiero Boetti (1940-1994), Colonna (Column), 1968
2014 in Art & Objects: The list in full
Christie's specialists select their personal highlights from another great year of auctions.
The long march of Pop art
Since the advent of Pop art in the late 1950s, artists have been tasked with contending with its legacy and implications. Scholars and curators are now looking at the movement with a similar sense of urgency. This month, Yale University Press is due to publish the art historian Thomas Crow's book The Long March of Pop: Art, Music and Design 1930-95, which examines the place of artists like Andy Warhol and Roy Lichtenstein within the wider web of 20th-century American and international culture. The book surveys Pop art's long history, placing it in line with American folk art traditions and linking it with later developments like the Los Angeles Punk scene of the 1980s.
Exclusive screening: go behind the scenes at the National Gallery
There are few films that merit a five-star rating from the Telegraph's film critics, let alone the accolade of being "a great, great film". National Gallery, a documentary about the venerable London art gallery by director Frederick Wiseman, is not only a superb film, but a paean to one of Britain's most prestigious institutions. In his review at the 2014 Cannes Film Festival, the Telegraph's Tim Robey said, "Wiseman brings us a treat that's of particular value to British viewers, but universally recognisable as a great, great film.
Exclusive: Mr. Brainwash Is a Real Estate Mogul
The wealthy have for a long time viewed art and real estate in a similar manner; investment vehicles to accumulate, show off, and increase fortunes. While there are many successful real estate moguls who buy and sell art, you do not often see the reverse, wealthy artists who invest in real estate. Nor are there many real estate millionaires who become very successful artists. Yet, the Observer can exclusively reveal that the high-profile street artist Thierry Guetta—who goes by Mr. Brainwash, or MBW—is a very active purchaser of Los Angeles real estate.
Highlights from an Historic Season
The autumn auction season at Sotheby's has been an historic one, with record numbers of participants turning out for some of the most memorable sales in the company's 270-year history.
Birthday surprise for MIA: A loan of art from Myron Kunin collection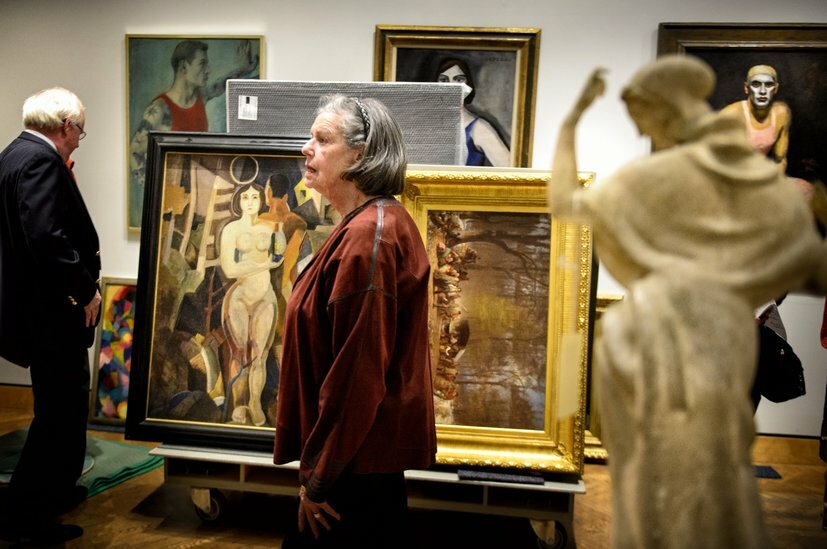 Anita Kunin toured the Minneapolis Institute of Arts exhibit of her late husband's 78 American modernist paintings art collection with MIA curator Patrick Noon. Photo: Glen Stubbe
Striding briskly into a suite of Minneapolis Institute of Arts galleries, Anita Kunin nodded approval at walls lined with paintings by Georgia O'Keeffe, Marsden Hartley, Andrew Wyeth and others, all from the collection of her late husband, Minneapolis businessman Myron Kunin. Then she glanced at a cart stacked with more of her husband's pictures. "That one I've never seen in my life," she said of "Two Nudes" by Marguerite Zorach. Many Minnesotans will share her surprise when "American Modernism: Selections from the Myron Kunin Collection of American Art" opens Thursday, launching a yearlong centennial celebration at the MIA.