If you're feeling a little gloomy after the excitement of Valentine's Day,  spend a peaceful afternoon in London viewing contemporary art, today the Halcyon Gallery in London will be presenting Multiplied, the latest exhibition from Spanish artist Ernesto Cánovas. You can prolong that Valentine's feeling by having a look at some of the works on display, which are a collaborative between Ernesto and his wife, Polish artist Gracjana Rejemer-Cánovas.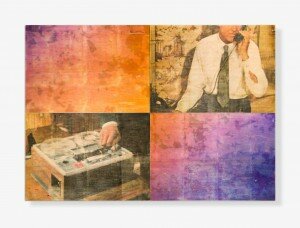 Cánovas' work has been referred to as resonating a "feeling of calm nostalgia", which is perfect for easy but enjoyable viewing. Cánovas combines decontextualized visual medias to create a unique narrative sequence – my personal favourite is A Second Implication. Cánovas uses large scale mix-media on wood panel paintings and the removes layers from the wood panel beautifully to create an image of a photographer and what I personally presume is the subject of the photographer's lens, but the true beauty of Cánovas' work is that you as the viewer are left to decide how to interpret it.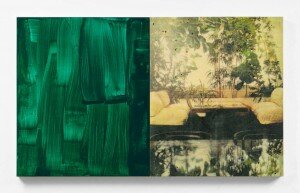 Cánovas notes that "Historic events shouldn't be forgotten and reflecting on these from time to time is a positive thing, not least because it helps us to avoid repeating the mistakes of the past. Today's events are tomorrow's history", and it's easy to see how this view translates within his work. The images appear as a snapshot in a memory – not entirely perfect, slightly faded and blurred, but nonetheless they provoke a strong emotional and philosophical response.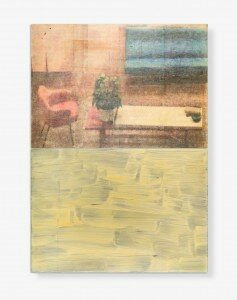 Colin Greensdale, Director at the Royal Scottish Academy of Art & Architecture, has written an essay on Cánovas' work, noting that work that "He wrestles with apparent effortless ease to combine imagery and colour, delivering us dreamlike instances to confuse us with partially remembered moments and clear periods of calm. A series of works by Ernesto is indeed a multiplied task. Developing and pushing themes in subtle directions; re-thinking, re-engaging, reproducing and each time delivering a unique instance….a resonating perfect moment caught in time for enjoyment and reflection." Personally I can't think of a better way to describe his work. This is an exhibition for anyone to enjoy and simply appreciate the craftsmanship and beauty of the works in front of them.
You can pop in Monday to Saturday between 10am–6pm, or on Sundays from 11am-5pm, the perfect way to finish a morning exploring London or to wind down before an evening in Mayfair's many bars and restaurants.
For more information visit the website .
Ultra Vie is your home of cultural events in London. Whether you're a foodie, mad about theatre or love a good art gallery we have something for you. So if you haven't already be sure to subscribe to our bi-weekly newsletter for your chance to get yourself to some of the amazing events that we cover.