ZsONA MACO, Latin America's most important contemporary art fair, celebrated its 13th edition from the 3rd to the 7th February 2016. 123 galleries from 25 countries took over the first floor of the Centro Banamex, in Mexico City. The Mexican contemporary art fair was funded by Zélika García in 2002 with the name of MUESTRA, and was located in the city of Monterrey, whereas its second edition moved to Mexico City, where the fair has been based ever since. Every year ZsONA MACO offers intriguing activities and events, and guarantees an enriching experience for all art lovers through its five sections: General; New Proposals; ZsONA MACO Sur; Modern Art and Design.
Here is UV favourite artworks from the fair.
Studio Job. Eiffel Tower Lamp, 2012 – Carpenters Workshop Gallery
Founded in 2000 by Nynke Tynagel and Job Smeets, Studio Job is a design studio based in Antwerp and the Netherlands, renowned for experimenting and changing the perception of arts in the contemporary age. Preceding their exhibition at the MAD – Museum of Arts and Design in New York, Studio Job presented, among other things, a bronze lighting installation displaying a distorted view of the Eiffel Tower, almost as if bended by an invisible power from above.
More information about
Julian Charrière. Polygon (Balapan), 2015 – Dittrich & Schlechtriem
Born in Switzerland in 1987, Julian Charrière has already participated to various exhibitions in Berlin (Germany), Vienna (Austria), Paris (France) and Kochi-Muziris Biennale in India. The Polygon series presents a collection of photographs taken at a former soviet nuclear testing area, and explores what the artist defined as "future archeologies".
More information about
Teresa Lanceta. Cuadrados amarillos, 44 - Espacio Mínimo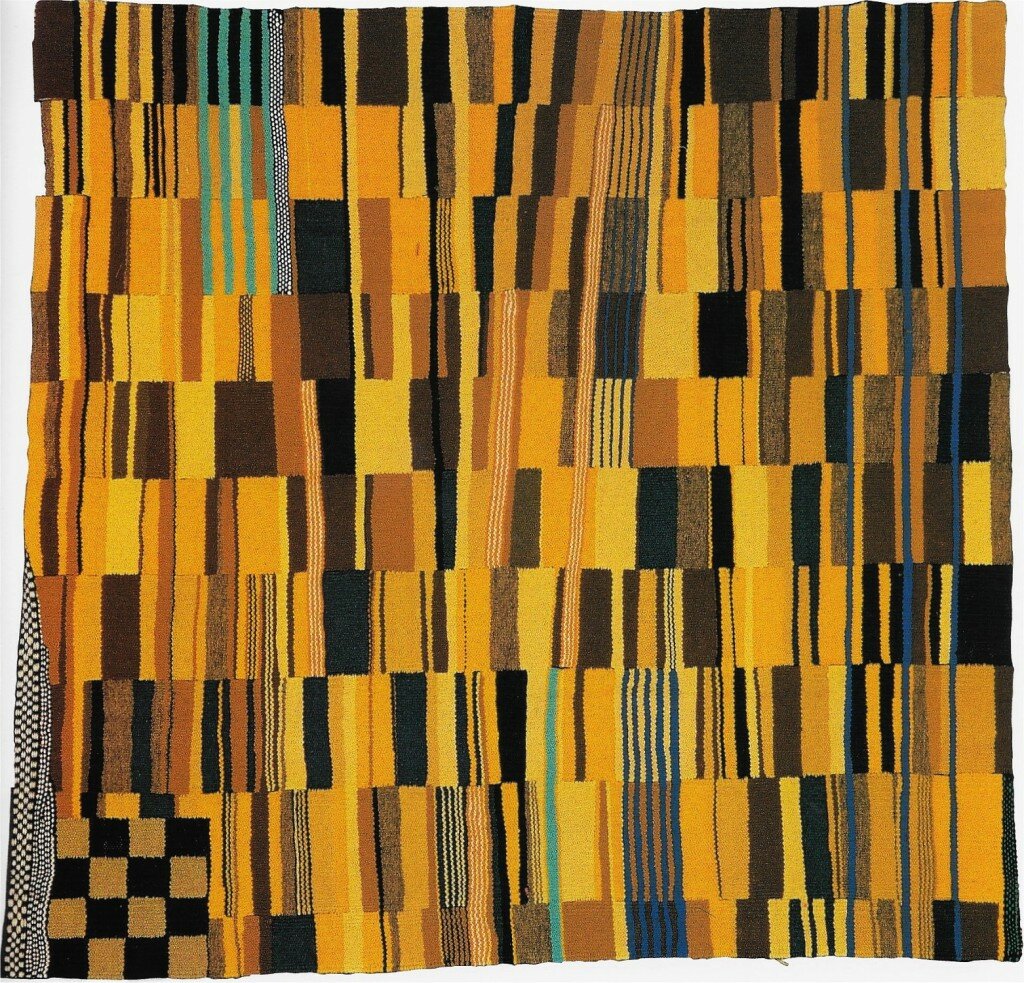 Born in Barcelona (Spain) in 1951, Teresa Lanceta currently lives between Alicante and Barcelona and works at the Escola Massana. At ZsONA MACO the Spanish artist presented her distinctive and unique piece Quadrados Amarillos, displaying the extent to which Lanceta mastered the technique of mixing wool and cotton.
More information about
Daniela Edburg. Paige Mossmaker, 2015 – Galeria Enrique Guerrero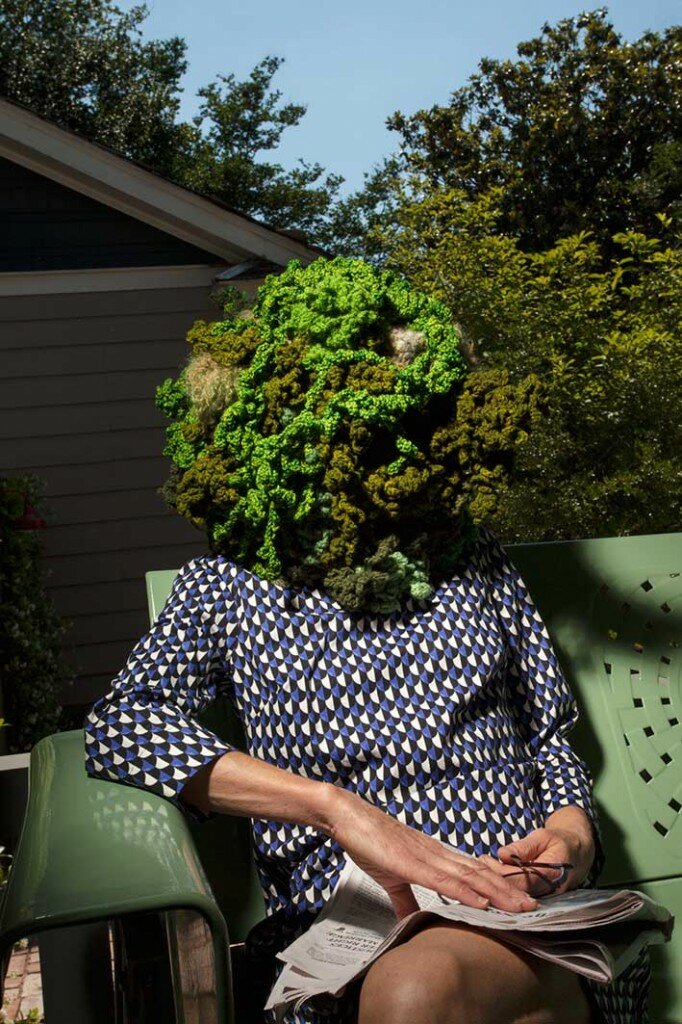 Daniela Edburg is a visual artist renowned for mixing photography, crochet and other media. In her latest works she created a series of fictional characters named "Mossmakers", recognisable by the distinctive trait of having a moss head. The crocheted artificial moss represents a metaphor of the ideas revolving around living structures, boundaries and identity.
More information about
Hector Falcon. Absorcion Purpura (Iki/Wabi-Sabi Cooperation) I,II,III, 2016 - Galeria Enrique Guerrero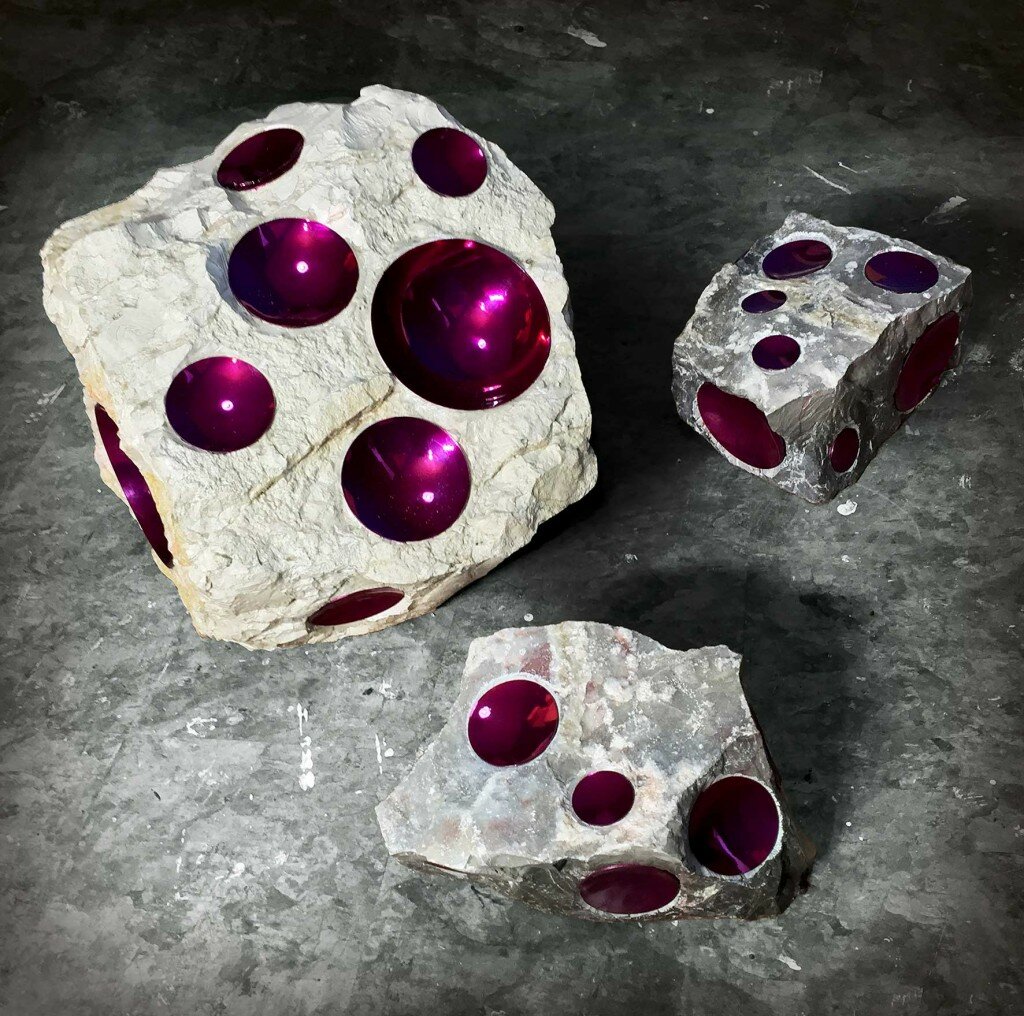 Born in Sinaloa (México) in 1973, Héctor Falcón is renowned for the variety of his works, from paintings to sculpture, photography, film and installation, sometimes even on his own body. The artist boasts more than 35 solo exhibitions and 140 group exhibitions around the world. His body of work is characterised by a peculiar humour and a tragicomic flair.
More information about
Lluís Lleó. Night Flyer, 2015 – GE Galeria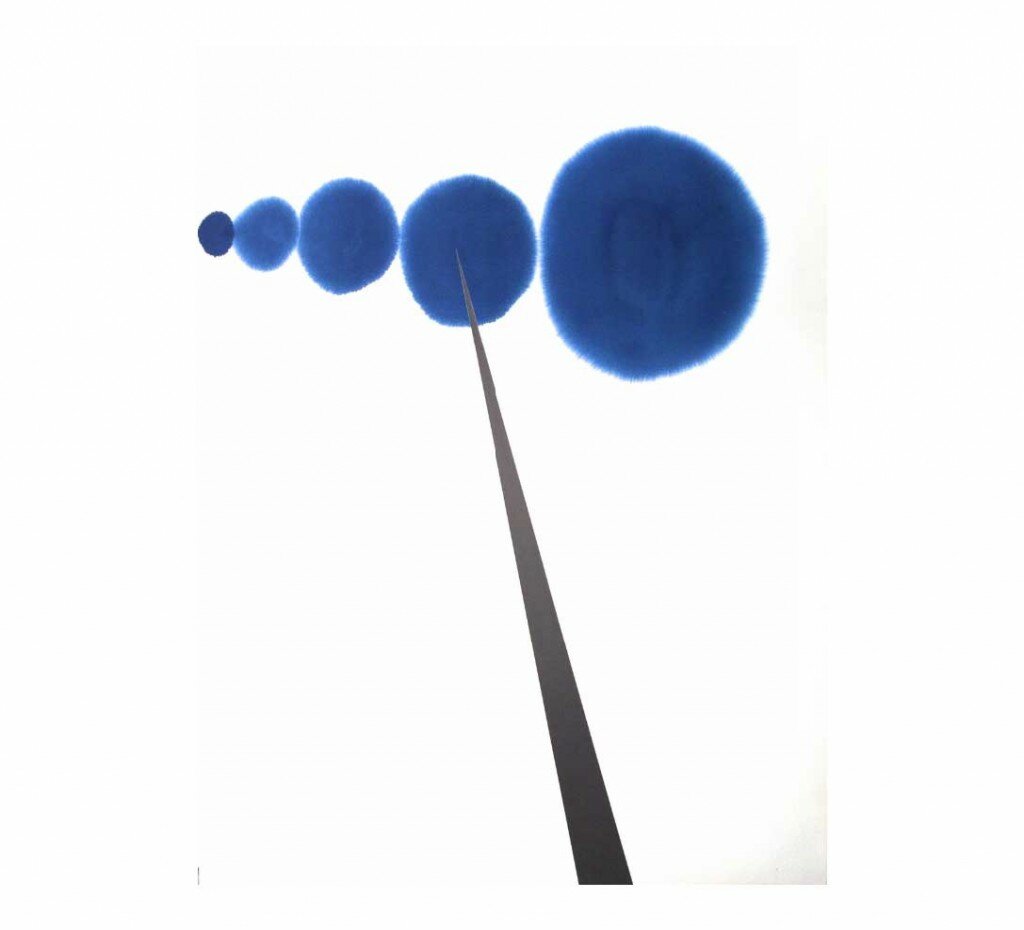 Born in Barcelona (Spain) in 1961, Lluís Lleó currently lives and works in New York. Lleó is a self-taught, fourth generation painter, renowned for his keen interest in fresco painting and his innate ability to combine painting, design, architecture and sculpture. Lleó boasts numerous solo and group exhibition worldwide.
More information about
Marina Vargas. Astra Revólver 1, 2014 – Javier Lopez & Fer Frances
Born in Granada (Spain) in 1980, where she attained a Master in Arts, Marina Vargas now lives and works in Madrid. Despite the young age the Spanish artist boast a prolific career, counting numerous national and international exhibitions, as well as awards and prizes.
More information about
Yunior Marino. Mantra, 2015 – Licenciado
Born in Holguin (Cuba) in 1976, Yunior Marino is a multi-skilled artist, working as a fine artist as well as musician and designer. The inspiration for his works resides in the artist's need to analyse the universe. The series of paintings entitled Mantra trespasses the concept of art per se; repeating the same patterns servers as a means to empty the mind of the artist as if meditating.
More information about
Davide Balliano. Untitled, 2016 – Luce Gallery
Born in Turin in 1983, Davide Balliano currently lives and works in New York. Despite the young age, the artist boasts numerous national and international solo exhibitions featuring his varied body of work, which includes different media such as wood, metal and glass sculptures, paintings and performances. Balliano is renowned for his geometrical black-and-white gesso and lacquer paintings on wood. The artist work is represented by Luce Gallery.
More information about
Thomas Ruff. neg◊stil_04, 2015 – Mai 36 Galerie
Renowned for his pioneering work of contemporary photography experimentation, Thomas Ruff presented a collection of innovative photographies revolving on the hidden meaning of the negatives. Neg◊stil_04 is part of a series of sepia images of flowers digitally manipulated by the German artist to convey the coldness and at the same time fragility of the forms, intrinsic to the perception of the negative as a mere means to an end.
More information about
Raul Cordero. Untitled (Artists Who Need Attention), 2015 – Mai 36 Galerie
Born in Havana (Cuba) in 1971, Raúl Cordero currently lives and works in Mexico CIty. In his series of paintings the artist presents the subjects captured on the canvas as if seen through the blurriness of an old TV screen, therefore giving a sense of melancholy and investigation of the self.
More information about
Bill Brandt. Nude, London, 1952 – Michael Hoppen Gallery
Witnessing first hand the heyday of Surrealism and the breakout of WWII, Bill Brandt brought an invaluable contribution to photography. His varied body of work, achieved through his prolific and prestigious career, shows the artist's elasticity and willingness to experimentation, making of Brandt an acknowledged pioneer of the early 20th century's photography.
More information about
Daido Moriyama. Lips (23), 2012 – Michael Hoppen Gallery
Born in Osaka (Japan) in 1938, Daido Moriyama is considered one of contemporary photography's giants. Self-taught visual photographer, Moriyama body of work shifts from capturing the chaotic urban landscapes and documenting the changes of post-war Japan, to shooting details of body parts, as displayed in his photography series entitled Lips.
More information about
Adam Wiseman. Los Humeros, 2015 – Patricia Conde Galería
Born in Mexico City (Mexico) in 1970, Adam Wiseman has lived in Mexico, New York, Scotland and Brazil. Among other things, he also worked as a freelance editorial photographer for magazines such as Wallpaper, Rolling Stone, New York Times, Wall Street Journal, The Telegraph, The Guardian and National Geographic. Adam Wiseman work is represented by the Patricia Conde Gallery.
More information about
Alberto Cavalieri. Cronos Alum, 2015 – RGR + ART
Born in Caracas (Venezuela) in 1969, where he currently lives and works, Alberto Cavalieri is renowned for his metal knots and swirls sculptures. The peculiarity of his works resides in the elegance and elasticity given to the heavy metal materials, conveying this intrinsic oxymoron and almost challenging the laws of physics. RGR + ART represents the artist's work at ZsONA MACO 2016.
Aldo Chaparro. Totem, 2015 – RGR + ART
Aldo Chaparro. Untitled, 2015 – RGR + ART
Born in Lima (Peru) in 1965, Aldo Chaparro currently lives and works between Mexico City, New York, Madrid and Lima. The artist is renowned for testing and always experimenting with the definition of art. Chaparro mixes and merges different media, which results in the peculiar and unique characterisation of his art. His prolific career boasts numerous international solo and group exhibitions.
More information about
Andy Goldsworthy. Reconstructed icicles, 2010 – Slowtrack Society
Andy Goldsworthy. Reconstructed icicles, 2010
Born in 1956 in Cheshire (England), Andy Goldsworthy is a "Order of British Empire" awarded photographer and sculptor. Goldsworthy is renowned for his land art and site-specific sculptures, located in both rural, natural and urban settings. The artist shows a keen interest in playing with nature as he deconstructs icicles, giving them otherwise impossible plastic forms, or positioning ice sheets on metal fences as a metaphor of freedom.
More information about
Bjørn Melhus. Headshots, 2014 – Y Gallery
Born in 1966 Bjørn Melhus is a German-Norwegian media artist. Melhus deconstructs stereotypical themes and figures from film, video and television, creating original and unique interpretations of the original content. The collection of Headshots displays an array of characters captured from film, video and production stills framed in a 40×30 format, creating an original and creative turn to visual media.
More information about
Ultra Vie is your home of cultural events in London. Whether you're a foodie, mad about theatre or love a good art gallery we have something for you. So if you haven't already be sure to subscribe to our bi-weekly newsletter for your chance to get yourself to some of the amazing events that we cover.